Raymond Smink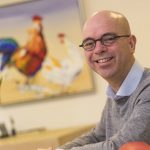 After completing his HEAO degree in Logistics, Raymond started working for a large international trading company in 1989, which involved spending some time working in France. After returning to the Netherlands, Raymond specialised in trading, export, and import. In 1996, he decided to go to work for Smink Food. Together with his brother Harro Smink, he has owned the company since 2003.
"'I was brought up on business, and the poultry business in particular. As a small child, I would wander around the office, the warehouse, and sometimes even the cold store, with my father. That's where my love for the business was born! During my studies, I discovered that the international aspect, in particular, appealed to me, as well as the personal contacts with different people from all manner of countries and cultures. In order to gain international experience, I started working at a large international trading house directly after completing my studies. I quickly realised that I wanted to be my own boss and, in the end, I was unable to resist the attraction of our family business. My brother and I took over the business from my father in 2003. As Smink Food, we want to become and remain an important partner for poultry products, offering all manner of solutions in terms of export."
Harro Smink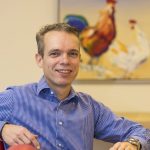 Harro obtained a HEAO degree in logistics. After his studies, he did a seven-month work placement at Ford in Germany. After graduating, he started out as an after-sales employee at Smink Food in 1992. At the same time, he was taking a part-time course at the Webster University in Leiden, where he graduated in 1994 with a Master's degree in Marketing. In 1995, Harro started working as a trader in cacao products at a large international trading company in cacao and coffee in Amsterdam. In 2000, he joined Smink Food. He has owned Smink Food since 2003, together with his brother Raymond Smink.
"'I specialise in the international purchasing and sales of poultry. Every day, it is a challenge to achieve something in terms of purchasing and sales. No two days are the same and that's the way I like it! Smink Food's mission is to be an efficient and reliable trading partner for our customers and our suppliers. It is a joy to realise this mission with this small, professional, and flexible team of colleagues. Because our clients are spread out all over the world, the variety of trade usage cultures is refreshing. This adds an extra dimension to my work."
Wim Smink
† 3 december 2014

I founded Smink Food in 1986. Together with my wife I took the plunge: our own company! Business was going well and we were short-staffed. That's when my children, Raymond, Harro, and Aster, joined Smink Food. In 2003, my sons successfully took over and continued the business. I founded Smink Food on the basic principle that it was to be a reliable company for both customers and suppliers. My successors have always respected this basic principle. It is one of the reasons that Smink Food is still valued today.
Mariëlle Lansu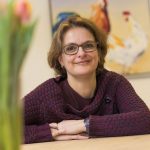 After completing her secondary education, Mariëlle Lansu decided to get a job straight away. After working in several shops, it was time for something different. She wanted to do something with foreign languages, preferably in an office environment. After having had various temporary jobs, she started at Swelm-Nuy, an abattoir in Nijmegen, in 1997.
"After working at Swelm-Nuy, I made a move to meat-processing company Hilckmann in 2001. There I set up the accounts department for the slaughter of cattle, and finally ended up in export administration. I maintained contacts with all manner of foreign customers and transporters. For me, this was great, because I love languages. When I don't speak a language fluently, I want to learn more about it. At Smink Food, I really enjoy practising my French vocabulary. I was born and raised in Nijmegen, but in the summer of 2012 I moved to Amersfoort. I wanted a new start, in particular with a fun and challenging job. And that is just what I found at Smink Food. I enjoy my work here very much and I have room to develop myself even further."
Vera Smink

Vera Smink has been involved in Smink Food for many years. When her husband, Wim, started the company in 1986, she ran the accounts department from the very beginning.
'I've been working for Smink Food since 1986. I find the personal contact with customers and suppliers particularly exciting. Even today, I know most of them personally, whether they're Dutch or foreign contacts. That's because Smink Food always takes part in the bi-annual trade show Anuga and I always help out. I love exploring the personal aspects of our contacts, so that the sales department can benefit from them. Because bookkeeping is now automated to a great extent, I can do my work in four mornings per week. That leaves enough free time to enjoy the fine things in life. But I still wouldn't be able to miss working at Smink Food! It keeps me young and fit, both physically and mentally."
Aster Smink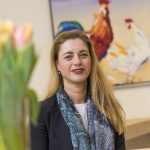 After her secondary education, Aster completed two study courses: management assistant via Schoevers and HEAO Communication. Although Aster worked at Smink Food during her studies, she also worked at a bank, a magazine, and an animal park. In the end, her hart was with Smink Food and she has been working here in shipping and IT for many years now.
"In my work for Smink Food, I really enjoy the variety and the pleasant (international) contacts. Every day is different, because you deal with different situations, customers, and suppliers every day. The collaboration within our team is also very good. We know each other through and through, and half a word is generally enough to get things done. Because we work together so closely, we know exactly what's going on. I really enjoy it. Thanks to my years of experience, I am able to answer questions quickly and clients and suppliers can always count on me!"